Speech at the welcome breakfast panel for Giuliani's visit of China at the Presidential Plaza Hotel Beijing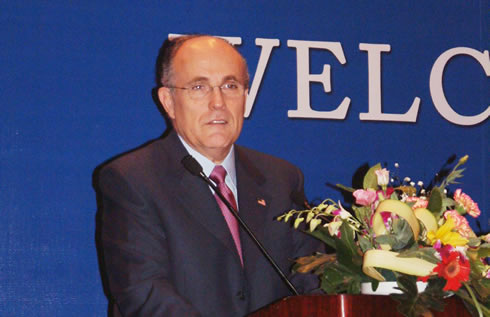 CIIC's president Mr. Wang Tianyi presided over the breakfast panel, Wang extended warm welcome to Rudolph Giuliani's China visit on behalf of Chinese People's Institute of Foreign Affairs (CPIFA), State-Guest Entrepreneurs' Club and CIIC.
Chairman of CPIFA Lu Qiutain said in his address that Mr. Giuliani has done arduous work in the face of terrorist attack after "September 11" terrorist incident and has won broad praise for the rebuilding of the beautiful New York city. He was named "Person of the Year" by Time magazine. The time for Giuliani's China visit just tally with the seasonal division point of "beginning of Spring", thanks for, Mr. Giuliani, for bringing forth such a beautiful Spring. Chairman Lu said that China and the U.S are two countries having great influence in the world and take a key role in the peace and stability of the world.
Although the two countries have different social systems and cultures, but they have the same common interest. Beijing and New York are friendly cities, the 2008 Olympic Games has offered broad prospect for bilateral cooperation. CPIFA is willing to be a bridge and channel for the cooperation and exchange between Beijing and New York and China and the U.S. Lu extended his welcome to Giuliani's visit of China.

Giuliani said in his thank-you address that he appreciated President Wang Tianyi and Chairman Lu Qiutian's invitation. He said humorously that he had given speech in different places in the world but background board that day is the biggest. He also said that he wanted to take Spring back to the U.S as his motherland also need it greatly. The city of New York is the epitome of the world. He hoped all can regard New York as the second city and his China visit will lay a good foundation. He also expressed his hoped of visiting China in the near future.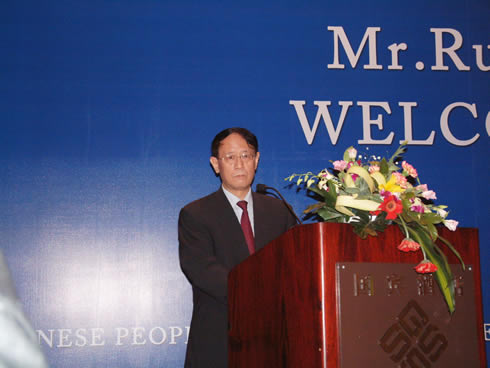 Hu Deping, secretary and vice chairman of the Party group of All-China Association of Industry & Commerce and deputy head of the United Front Work Department said in his address that during Giuliani's 8-year term as mayor of New York, New York's economy got recovery and development. The first time for me to feel Mr. Giuliani is the "September 11" incident, then Giuliani has become the most famous figure in the world. Hu Deping said people always have a lot of work to do in Spring, the most important is the seeding of economy. As a private and non-government organization, All-China Association of Industry & Commerce is willing to conduct contact and cooperation and actively participate in international economic cooperation forum advocated by Giuliani. Later, he said that we must cherish Spring and expect the harvest in Spring.
Counselor of American Embassy in China also delivered a speech. He showed his warm welcome to Giuliani on behalf of American ambassador to China. He said China and the U.S have huge cooperation potential, which has great significance for world stability and development. There's a very stirring TV series named "A native of Beijing in New York" in China. Now, I saw more and more New York people came to Beijing. I hope Mr. Giuliani can let this known to more New York people. At the same time, welcome Mr. Giuliani to visit China for times.
Liu Jianfeng, Director of the Committee of Foreign Affairs of the Chinese People's Political Consultative Conference (CPPCC) welcomed Giuliani on behalf of the Committee of Foreign Affairs of CPPCC. He said that the Committee of Foreign Affairs has participated in the preparation of Mr. Giuliani's China visit. CPPCC valued the Mr. Giuliani's visit very much. Jia Qinglin, standing member of the Political Bureau and Chairman of CPPCC met Mr. Giuliani in the Great Hall of the People that afternoon. He said that Mr. Giuliani has rich experiences in urban management, security support, risk management and urban environmental protection and outstanding management expertise. He hoped Mr. Giuliani can make more friends during his visit. Late, wish a jubilant Roost Year to Mr. Giuliani and various guests.
Chinese consulate to New York Zhang Hongxi and Qiu Shengyun also delivered speeches. He also recalled "September 11" incident and the Chinese government's understanding and support of cracking down on terrorism; and their real feeling on Mr. Giuliani on their capacity. They hoped people of both countries can work together to bring forth a beautiful Spring to the peace and development of the world.
Leaders from the Ministry of Foreign Affairs, State Assets Regulatory and Management Commission, Committee of Foreign Affairs of CPPCC, All-China Association of Industry & Commerce, CPIFA and leaders of Beijing Municipality and representatives from some embassies and consulate in China, Fortune 500 companies and international chamber of commerce and association also attended the breakfast panel.