Theme discussion ¡°Post-80s, want to follow me?¡±
ends successfully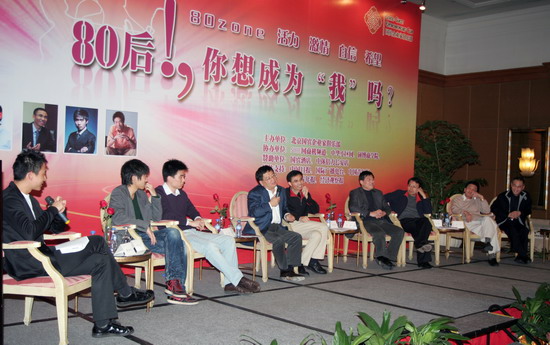 The theme forum ¡°Post-80s, want to follow me?¡± hosted by Beijing State-Guest Entrepreneurs Club was successfully held at the State Guest Hotel on November9,2007. The event was emceed by Cao Difei , a well-known anchorman with Beijing Television Station. Xu Xiaoping, renowned occupational planning and life development consultant in China, chairman of New Oriental Group and president of Culture Development Institute, Chen Pei, famous search engine technology expert in China, initiator of Zhongsou Union and CEO of union.zhongsou.com, Wang Mingfu, China's famous strategy consultant and investment bank expert, chairman of H&J Vanguard and chief researcher of the Finance and Securities Institute of the Renmin University of China, Li Xiang, CEO of PCPop&Autohome, Mao Kankan, CEO of MAJOY, Wang Zhongming, director of the research center of the State-owned Assets Supervision and Administration Commission of the State Council, Wang Ning, standing vice-chairman of China Electronic Chamber of Commerce, and Professor Pan Wei with the Peking University were invited as guest speakers.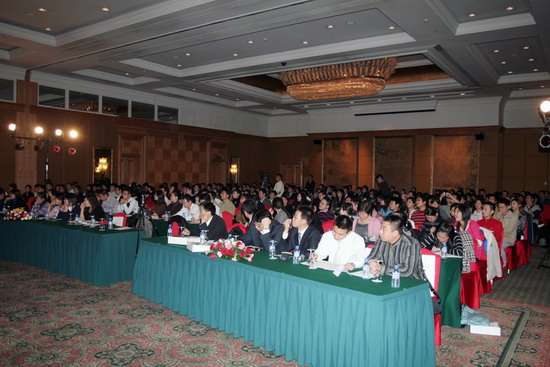 At the forum, the successful entrepreneurs discussed with more than300 ¡°pioneers of the80s¡±, ¡°white collar of the80s¡± from various circles at home and abroad as well as the ¡°postgraduates of the 80s from nearly10universities including Tsinghua University , the Peking University , Capital Normal University and Beijing Jiaotong University on the ¡°venture of the80s¡±. Topics at the forum included ¡°why should we build a business?¡±, ¡°what preparations should be done before starting a business?¡±, ¡°how to gain the first bucket of gold?¡± and ¡°the different feelings before and after the business?¡±. Under the careful arrangement and the mobilization of the anchorman, the discussion was full of the unique ¡°vitality, confidence, passion and hope¡± of the post-80s.
For many people, the life of the generation born after1980is linked with joys, football, games and fashion. As a matter of fact, this generation is rising and overthrowing traditions and seeking their own growth course ¨C an open personality, seeking elegant taste, being brave in exploration and innovation! On their growing course, despite some perplexity, confusion and loss, this generation are using their unique experience and fortune-making models to write a historical chapter of the post-80s.
State-Guest Entrepreneurs Club was co-initiated by the All-China Federation of Industry & Commerce, China Council for the Promotion of International Trade and some of the CEOs of China operations of the world's Top 500 companies, officials from the embassies and consuls in China and foreign chambers of commerce. It aims to become ¡°the cradle of Chinese enterprise elites, a bridge for Chinese enterprises to the world, a window for foreign companies to understand China and an exchange platform for enterprises and government¡±. According to its first purpose, the cradle of Chinese enterprise elites, the club launched different ¡°salons of the post-80s¡± on different issues. All these events have either provided a platform for the post-80s to talk and learn from the successful people in person and get encouraged or discuss on how to open up a valuable, significant and challenging course of life. Let us pay attention to them¡­. For more information, please check