Business delegation of Romanian Nile group visits CIIC
---Both sides will jointly build a bridge for Chinese enterprise to Romania and Europe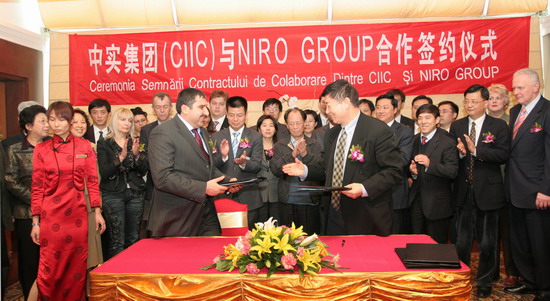 At the invitation of Wang Tianyi, president of CIIC group, president of Romanian Nile Group led a business delegation of eight members to visit and inspect CIIC from February 2 to 11, 2007. Both sides held a talk about cooperative projects such as large-sized markets, hotels, traveling facilities, airports and expressways, and aiming at building a bridge for Chinese enterprises to Romania and Europe. Hu Deping, vice-chairman of All-China Federation of Industry and Commerce, was present at the signature ceremony.
Nile Group is dedicated to implementing the cooperative framework agreement signed during CIIC visited Romania. The project cooperation established by both sides include three levels: firstly, Nile Group owned projects and other projects; secondly, large-sized infrastructure projects, centering airport and expressway in Bucharest and projects which EU allocated Euro 200 million; thirdly, governmental projects.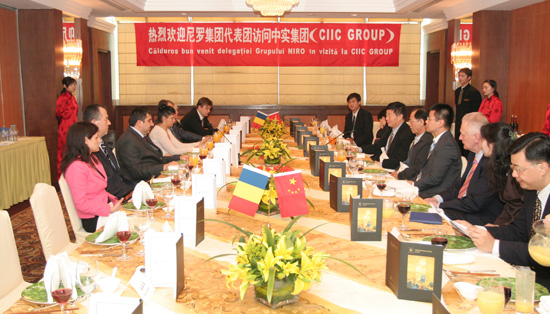 Nile Group specified its owned large-sized projects such as markets, hotels, traveling facilities and China Town. Both sides exchanged ideas on design and construction in details. They agree that CIIC shall start the cooperation with design and construction of specific projects such as large-scaled markets and hotels of Nile Group for the sake of understanding market and accumulating experiences, then gradually develop to project investment.
As for early-period preparation institution of the cooperative project, both sides agreed to establish a joint venture of consultation, while ascertaining share proportion of the consulting company and appointing contact person of both sides. From March to April, both ends will complete the registration of the joint venture and sent staff there in order to conduct early-period work.
For the sake of enabling Nile Group to understand the great demands for Chinese enterprise to invest in Romania and strengthening confidence to develop and build large-sized wholesale and retail markets and large-scaled traveling projects, CIIC arranged Romanian guests to inspect the largest small commodity base-- Yiwu Small Commodity Wholesale Market, then visiting well-known Chinese tourist cities such as Haikou, Sanya and Hangzhou and inspecting Hainan branch of CIIC.
To strength exchange and cooperation between China Romania, both sides decided to jointly organize a series of politic, economic and cultural exchange activities: from May to June, they will hold Sino-Romanian friendship commemoration activities inclusive of a Sino-Romanian investment forum in Beijing. At that time, they will invite political officials such as Romania Premier and Bucharest Mayor to visit China. From June to October, they will organize Chinese enterprises to hold an investment forum for the sake of attracting Chinese enterprises to invest in Romania, in turn, Chinese Government will support to build a Romanian Yiwu. From September to November, they will carry out a circuit business invitation activity to Romania in Yiwu, Zhejiang, Fujian, Guangdong and Shandong for the purpose of publicizing the large-sized market project of Nile Group and focusing on highlighting China Town in Romania. After the Spring Festival, both sides will negotiate about the activity preparation scheme in Poland and respectively implement the preparation work.
On that basis, they signed project agreements of design, construction and general cooperation. Hu Deping, vice-chairman of All-China Federation of Industry and Commerce, attended the signature ceremony and expressed to support Chinese non-governmental enterprises to invest in Europe.