CIIC talks about cooperation with Polish delegation
---Polish Government hopes CIIC visits Poland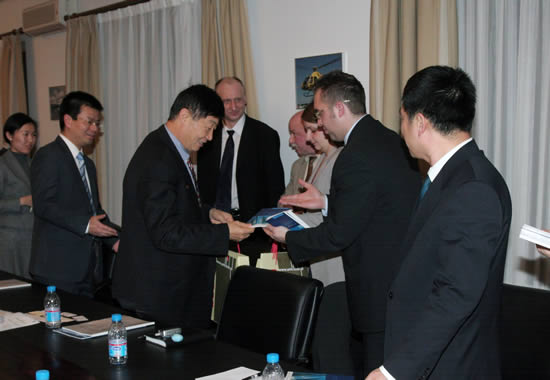 On the invitation from CIIC President Wang Tianyi, a Polish delegation led by Mr. Krzysztof Ceibien, Deputy Chief of Embassy of Poland in China and Minister Counsellor, and President Wang Tianyi held a meeting about Chinese enterprises going to and investing in Poland at the State Guest Hotel on December 15, 2006. Mr. Ceibien hoped CIIC to go to Poland to invest and invited Doctor Wang Tianyi to discuss about details at Polish Embassy.
Under the arrangement of Polish Minister Mr. Ceibien and Commercial Counsellor Mr. Robert Pawlik, CIIC and Polish visiting delegation to China held a friendly and ardent talk at Polish Embassy on December 18. The Polish delegation included the head of Polish National Information Foreign Investment Bureau, Mayor of Lodz, the second largest city in Poland, representatives from relative departments of the municipal government, and the head of Lodz Economic and Technological Development Zone.
During the talk, President Wang Tianyi introduced to the guests the strategies that Chinese Government supports overseas development of privately owned enterprises and the cooperative mode between CIIC and Polish Government as well as Polish enterprises. To meet the demand of national economic development, CIIC, entrusted by All-China Federation of Industry & Commerce, carried out international communication at civil level by cooperating with and participating in constructing and managing large-scale foreign infrastructure construction projects, real estate and property management projects, hotels, information security industry, and information base projects. CIIC took advantages of successful experiences, technical strength, advanced concepts, human resource, and sufficient fund in above fields, organized investment in processing, production, and assemblage through international cooperation, and set up export bases.
The head of Polish National Information Foreign Investment Bureau introduced the general situation of Polish and its special economic zones, as well as the economic situation after joining in EU. The head extended welcome to CIIC investment in Poland and would actively coordinate relative functional department of Polish Government to arrange project negotiation. The head also introduced preferential taxation policies provided by Polish local government for foreign-funded enterprises, as well as the market status in other East Europe countries.
The Mayor of Lodz described local economy, history, culture, and education, and recommended airport, freeway, five-star hotel, office building, and residential building projects. The Mayor hoped comprehensive cooperation with CIIC.
The head of Lodz Economic and Technological Development Zone introduced taxation policy, legal environment, labour force, and infrastructure construction in relation to economic zone development, and promised that CIIC might select the most geologically advantageous plot from the 22 under-jurisdiction plots when CIIC determines to build up a scientific and technological park.
Some results for the phase were made at the talk. Firstly, Polish Government welcomes Chinese privately owned enterprises to invest in Poland and get involved in economic development under the instruction of All-China Federation of Industry & Commerce. Secondly, Polish Embassy and delegates in this visiting delegation to China hoped CIIC to visit Poland and would arrange relative functional departments of Polish Government and relative enterprises to negotiate with CIIC about projects. Thirdly, the Polish party would hold a conference call for CIIC and Polish enterprises that intend for cooperation before visiting Poland in order to further understand each other.
The cooperation meeting with Polish party is an important step of "developing overseas market" strategy of CIIC. In January 2007, CIIC delegation is going to visit Poland and sign a series of cooperative agreements with Polish party.