Phase II preparation workshop for
Yellow River Forum held by CIIC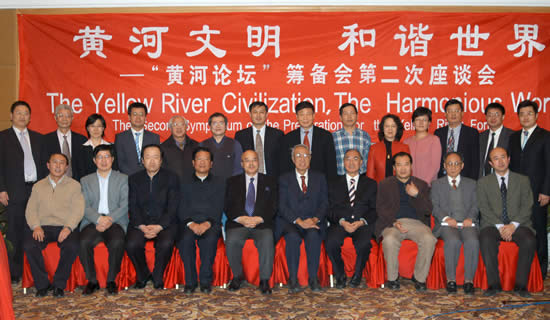 The Phase II workshop for preparing for the Yellow River Forum, which is titled with Yellow River Civilization Harmonizes the World, was held at the State Guest Hotel on December 23, 2006. Wang Tianyi, CIIC Board Chairman and President, delivered a keynote speech, describing the idea of disseminating Yellow River civilization and building up Yellow River Cultural Park.
President Wang Tianyi introduced the general plan and development concept of Yellow River Cultural Par, a CIIC project, to participating guests. Wang pointed out that harmonious development under different profit and political environments was the future tendency according to current situation of the international community, and harmony was just the essence of Yellow River civilization.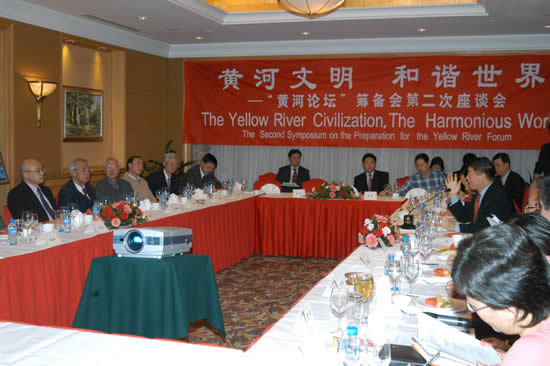 Participants included representatives from All-China Federation of Industry & Commerce, National Development and Reform Commission, the Ministry of Foreign Affairs, CPPCC, the Research Office of the State Council, the United States Embassy in China, Boao Forum, Beijing Office of Shaanxi Provincial Government, Phoenix TV, China International Strategy Academy, World Affairs Press, National Audit office, and H&J Vanguard Research and Consulting Co., Ltd, and they approved the endeavour that CIIC spreads traditional Chinese culture and would support developing Yellow River Cultural Park. Participants discussed future positioning and objectives of Yellow River Forum, project initiation of Yellow River Cultural Park, and planning and development of Yellow River Industrial Zone, and shared pertinent ideas and suggestions.
Liu Qun, Jia Jing, Zhao Liping, Wu Jie, Deputy presidents of CIIC, Chen Chusan, Chairman of the Supervision Board, and other CIIC leaders attended the workshop.