Four Cooperation Agreements reached
between CIIC Delegation and Pakistan
---fruitful achievements from President Wang Tianyi's visit to Pakistan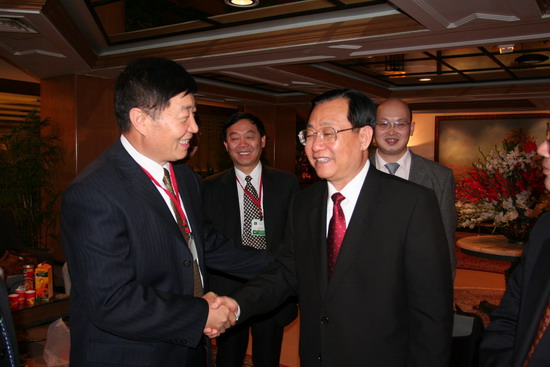 With the invitation of Sheikh, Vice-president of State Planning Committee, Pakistan, the delegation of China International Industry & Commerce Co., Ltd. (CIIC) led by President Wang Tianyi paid a visit to the Islamic Republic of Pakistan from 20th to 26th , November 2006. Deep conversation with relevant government departments and state administrative organizations resulted in four framework cooperation agreements. When the delegation attended the meeting between State President Hu Jintao and the representatives of industrial and commercial circle in Pakistan, President Wang Tianyi had a friendly talk with Wang Gang, the alternate member of the Political Bureau of the CPC Central Committee, the Secretariat of the CPC Central Committee and Director of the General Office of the CPC Central Committee.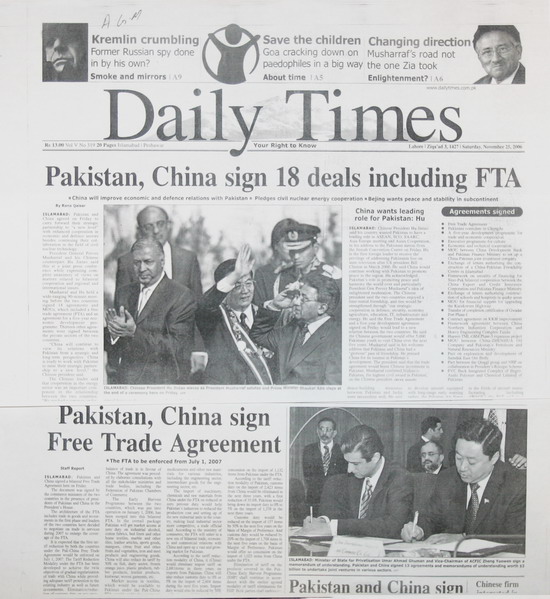 During the visit period, the CIIC delegation made the conversation respectively with many senior officials, including Umar Armand Ghumman, the State Minister of Pakistan and Chairman of State Investment Committee, Akram Sheikh, Vice-president of State Planning Committee, Dharar Achim, the official of State Housing Committee and Chairman of Army Welfare Trust Fund of Pakistan, and Ghazari, the captain of National Logistics Corporation. As the result both parties signed a series of framework cooperation agreements, involving civil servant housing construction, China business centre, China industry park, airport and highways. The Pakistan media remarkably published some large-sized photos about State President Hu Jintao's visit to Pakistan, and cooperation agreement reached between CIIC on behalf of Chinese enterprises and the chairman of Investment Committee of Pakistan.

Fruitful achievements have gained in cooperation projects during President Wang's visit, which can be divided into three categories:
Recent project: make cooperation with Housing Committee of Pakistan in civil servant housing construction. With the land approved by the Housing Committee, CIIC will be responsible for 500 suits of civil servant housings at the first-stage construction as Pakistan Party expects, which is designed to meet the demands on housings of 0.4~0.5 million sq. m.
Mid-term project: make cooperation with National Logistics Corporation of Pakistan (NLC) to establish China Industry Parks in Lahore, Karachi and Islamabad respectively with the planned total area up to 100 sq. km.
Found a joint-venture company with Army Welfare Trust Fund of Pakistan (AWT) with a view to construct China business centre with the area of 1 million sq. m in the above three cities respectively and villas along the Islamabad Lake.
Strategic project: conclude a general framework cooperation agreement with Investment Committee of Pakistan for infrastructure construction such as airport and highway, as well as oil cooperation with Middle East countries by predominant geographic location of Pakistan.
Currently, both parties engage in discussing the implementation of these projects. The relevant leaders of Ministry of Foreign Affairs of the People's Republic of China, Ministry of Commerce of the PRC, All-China Federation of Industry & Commerce, and National Development Bank, pay great attention to these cooperation agreements and present China's great support to these projects, for example industry park establishment in the countries that highlight traditional friendship with China in order to assist Chinese enterprises in industry shift and internationalization.
As a Chinese private enterprise, CIIC devotes to establishing high-tech parks in China and providing services for the development of transnational and Chinese enterprises. At the same time, CIIC also plans to construct internationalized high-tech park overseas, promoting Chinese enterprises toward the world and relaxing the pressure on domestic land, energy and environmental protection.