Successful close of 2006 Invitation for Intech international Cup
Golf Competition for Entrepreneurs Elite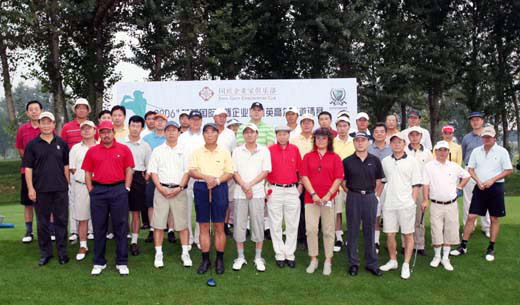 The 2006 Invitation for Intech International Cup Golf Competition for Entrepreneurs Elite held by State-Guest Entrepreneurs Club came to a successful close in Beijing Yaoshang Country Golf Club on August 26th , and about 50 elite from all circles attended the competition.
About 50 elite from enterprises listed in Fortune 500, such as Cisco Systems China Research & Development Center, Accenture, SICPA (Switzerland), Simens, TangLong International Media Group, MCI WorldCom Inc., State Guest Hotel, China Electronic Chamber of Commerce, China Association of Enterprises with Foreign Investment, Embassy of Malaysia, Bank of China, China Development Bank, Construction Bank of China, Bank of East Asia, China Education Foundation, and senior management elite from embassies and consulates in China, first-class associations and chambers of commerce at home and abroad, famous enterprises at home and abroad, famous funds, banks, attended the competition. The tenet of the competition is to provide people with a chance approaching the nature and enjoying sunlight, and an exchange platform.
After five hours' blood-and-thunder contending, Hu Yong, vice-president of Intech Group, won Gross Champion with 79 Pole , other winners list as follows:
Gross 1st Runner-up: Meng Qingfu (81 Pole), former general manager of Tokyo Branch of Bank of China
Gross 2nd Runner-up: Fan Xuejun (82 Pole), general manager of Northern Star Automobile ( Tianjin ) Limited.
Net Champion: Fu Shu (72.4 Pole ), general manager of former Chongqing Industry
Net 1st Runner-up: Xie Cheng (72.6 Pole ), president of SICPA China
Net 2nd Runner-up: Tang Zhizhong (74 Pole ), vice-president of Cisco Systems China Research & Development Center
The Longest Drive : Sun Qingguo, general manager of Beijing Energy Real-estate Development Co., Ltd.
Closest to the Pin: Shen Xianguo, board chairman of Beijing Dashilan investment Co., Ltd.
BB award: Chu Xiaolu , vice-president of Bank of East Asia
The competition also sets tens of awards besides above mentioned, such as a hole in one, the best style award, the most vigor award, best participation award, and lucky draw. Awards divide into different levels, from 300 yuan to 30,000 yuan, total value is nearly 200,000 yuan. Additionally, each participant will obtain physical examination cash coupon of 500 yuan worth and six months of deluxe magazines of several hundred yuan worth . The awards cover all of participants, therefore, participants can participate in the competition in high spirit and come back with fruitful results.
This competition is the first match of 2006 invitational competitions held by State-Guest Entrepreneurs Club. Since its establishment in 2004, the club holds 1-4 golf competitions every year. During the past three years, the golf invitational competition held by State-Guest Entrepreneurs Club has become a popular match. As an official title sponsor, Intech Wellness Center greatly supported the competition, additionally, many enterprises and media also actively supported and reported the competition, such as Hanwang Technology Co. Ltd., State Guest Hotel, Zhizun Journey, Arrail Dental, "°President"± Magazine, "°Global Economy Review"± Magazine, China Business Times, www.99golf.cn , Golf Forum in www.sina.com , golf channel in www.tom.com , MY golf, www.21golf.com , etc. At present, the club is preparing State-Guest Entrepreneurs Golf Club and will provide high quality and specialized service for guests all circles.
Network Media Report:
Sports. Sina.com, Tom Golf Channel (1) (II), 99Golf.com, 21Golf.com
Media Report: