Deputy president Liu Qun participates in a consultation meeting on cooperation between Anhui and
Fortune 500 enterprises
---Anhui Provincial Government shows their appreciation
to BIIP's invitation of the Fortune 500 enterprises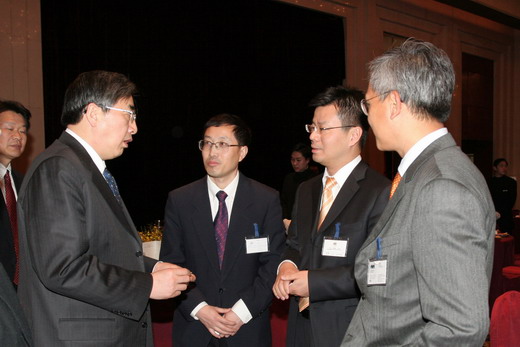 On March 9, 2006, Anhui Provincial Government organized a consultation meeting on cooperation between Anhui and Fortune 500 enterprises in Grand Hyatt Beijing Hotel. Guo Jinlong, secretary of Anhui Committee of CPC; Wang Jinshan, governor of Anhui and Gao Hucheng, deputy minister of the Ministry of Commerce attended the meeting and delivered speeches. Liu Qun and Yang Jianwei, executive deputy president and deputy GM of BIIP respectively also attended the meeting.
Entrusted by Anhui Provincial Government, BIIP and State Guest Entrepreneur Club invited such high-profile figures as Ren Peishan, chief representative of IBM China, Hanh Tu, vice president of Cisco Systems China by resorting to its good cooperative ties with Fortune 500 enterprises. Anhui wants to invite businesses through the interactive consultation with MNCs especially Fortune 500 enterprises.
During the consultation meeting, deputy president Liu talked sincerely with officials from Anhui Province, the Ministry of Commerce and representative of Fortune 500 Enterprises. After listening to the progress of the building of Hefei International Information Industry Base jointly conducted by BIIP and Hefei High-Tech Industrial Development Zone, secretary Guo and governor Wang invited leaders of BIIP to visit Hefei and cooperate in business invitation. They showed their appreciation to BIIP's invitation of Fortune 500 enterprises and hoped to continue the cooperation and get common success.
A total of 17 projects are launched in the meeting. With a total investment of US billion, the projects involve such fields as coal chemical, IT industry and auto parts etc.