China Innovative Bankers' Club holds the 3rd breakfast meeting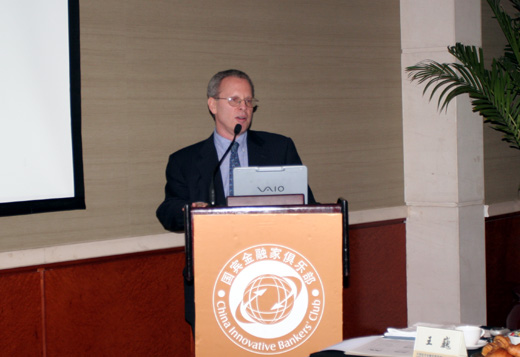 On April 12, 2006, the 3rd breakfast meeting of China Innovative Bankers' Club was held in Grand Hyatt Beijing. Robert J. Barro, noted American economist and professor of Harvard University from made a speech entitled "the influence of America's monetary policies' on China's economic development". The conference is presided over by Li Jiange, director of the Development Research Center of the State Council. Yu Yongding, director of the Institute of World Economics and Politics (IWEP) of the Chinese Academy of Social Sciences (CASS) gave a comment.


【Figure link】:Professor Robert J. Barro


Professor Robert J. Barro is a professor of Paul M. Warburg Professor of Economics, Harvard University, senior researcher of Hoover Institution of Stanford University, special researcher of National Bureau of Economic Research, vice chairman of American Economic Association and chairman of Western Economic Association and one of the most influential economists in the world.
Professor Barro was born in 1944, he obtained his doctorate of economics in Harvard in 1970. He has made prominent achievements in macro-economics, economic growth, monetary theories and policies and has many works. The book—"Economic Growth" published in 1995 is a necessary teaching building of the Department of Economics in the recent 10 years. Presently, he is composing the new edition of "Microeconomics". Professor Barro not only has made great achievements in theory, but acts as the editor of several academic periodicals. He is the special columnist of "Business Weekly" and contributes for several major newspapers in the world. In recent years, he pays attention to the economic development of China and even the whole Asia and is employed as special professor by several noted universities as Tsinghua University and Wuhan University.